PARKING LOT STRIPING Seguin TX
Keathley Line Striping is San Antonio's #1 Parking Lot Line Striping Company. No matter the size of the job, big or small, we've got you covered!
Parking Lot Line Striping
Keathley Line Striping is here to work alongside you! If you like the layout you have now, but you just want it to look refreshed, we can definitely help. If you hate your current design and layout of your parking spaces
Hot Pour Crack Fill
Keathley Line Striping specializes in hot pour crack fill because we love to bring a presentable, smooth surface to every business. We like knowing that we help ensure you have pleased and satisfied customers entering your business every day.
Pothole Repair
Keathley Line Striping offers a comprehensive list of pothole repair services so that we can get you the look you want by choosing the most appropriate service. We use the very best, most innovative technology to make sure your parking lot is not only beautiful, but safe for travel as well.
Parking Lot Signage
Keathley Line Striping takes signage very seriously. We use high performance materials to get the job done the way you want, and we want you to like the look of your lot.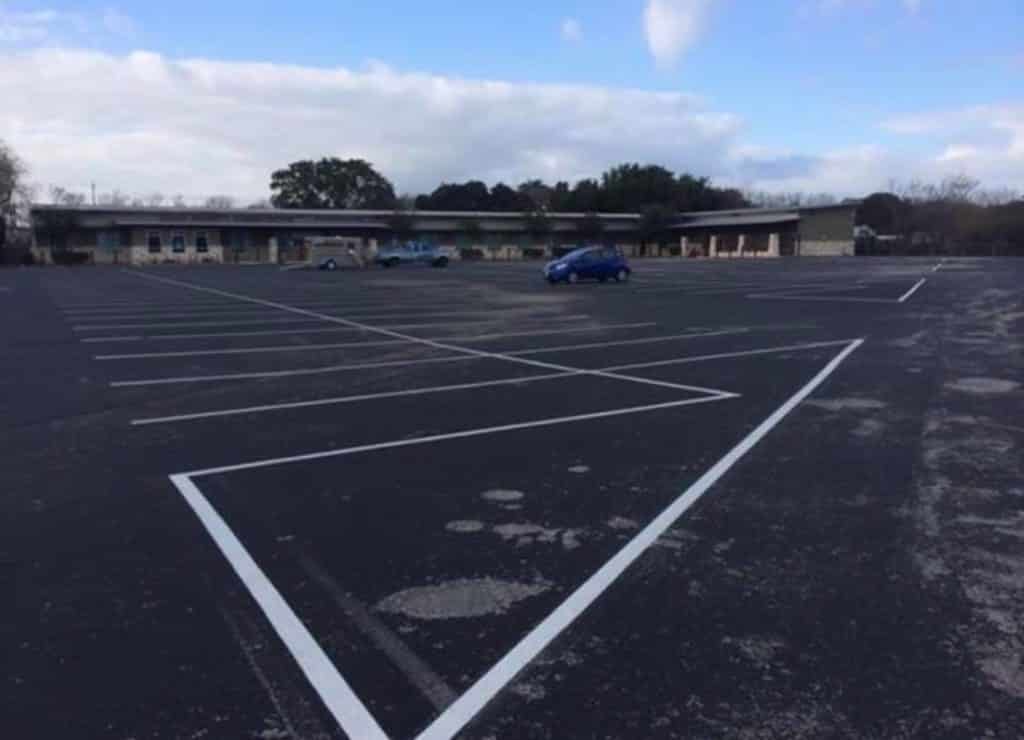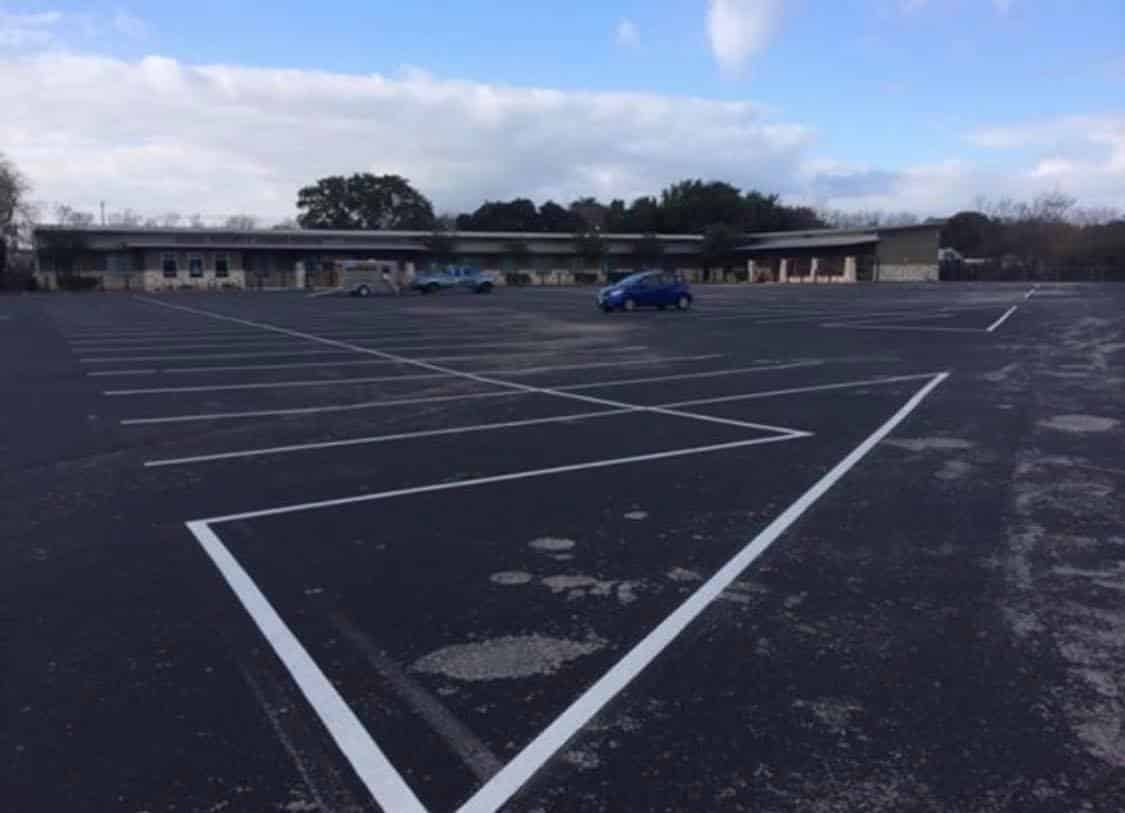 Seguin Parking Lot Striping
Are you looking for the best, most experienced parking lot line striping company in Seguin TX? Then Keathley Line Striping is definitely the right choice for you! We're a 100% deaf-owned and employed company, and we've well over a decade of experience in striping and painting parking lot lines in Seguin.
Our experience and expertise are what separates us from the other companies in Seguin because not only do we love what we do, but this is all we do! Keathley Line Striping is centered around doing one thing and doing that one thing extremely, extremely well: striping parking lots in Seguin! Our goal is to give you the best looking parking lot that Seguin has ever seen! Parking Lot Striping Seguin TX
Trusted Parking Lot Line Painter Seguin TX
Why should you trust Keathley Line Striping? What makes Keathley Line Striping better than someone else? Well, why don't you ask some of our customers what makes us different from the rest: Costco, Federal Aviation Administration (FAA), Walmart, Chick-Fil-A, Brookshire Brothers, Nissan dealerships, Rudy's BBQ, Valero, and many others.
Customer satisfaction is priority number one in our minds because we want your parking lot lines in Seguin to create an incredible first impression to each and every individual that drives on and parks in your parking lot. Having neat, straight and clearly marked lines for parking and handicap cap spaces will make all the difference in the world in terms of the attitude that your customers or visitors have toward your business.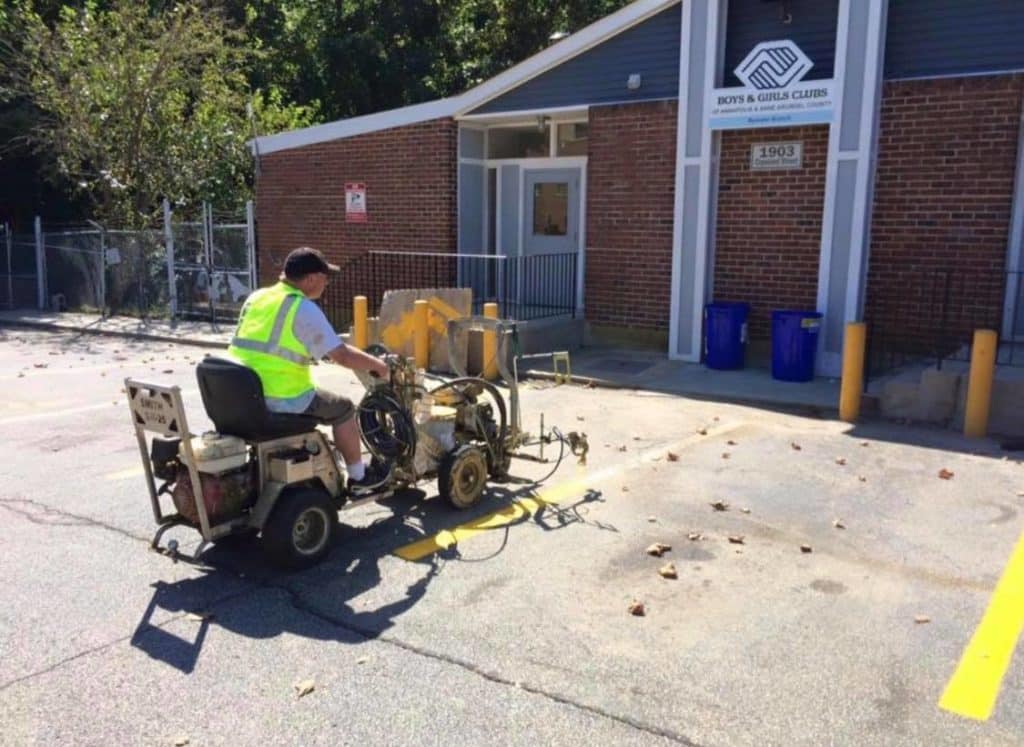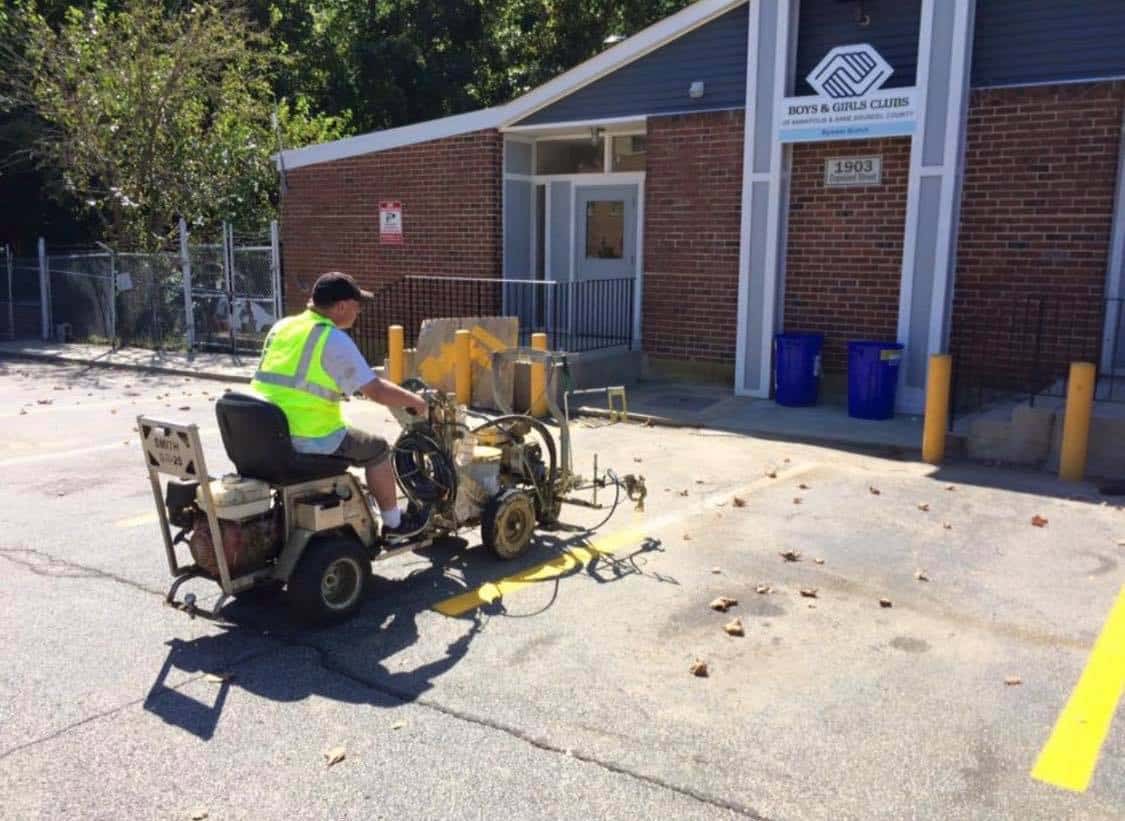 Parking Lot Line Striping Seguin TX
Whether You're Looking For…
Parking Lot Line Striping Seguin TX

Parking Lot Line Painting Seguin TX

Best Parking Lot Line Painter Seguin TX
Handicap Parking Spaces Seguin TX

Handicap Park Space Accessories Seguin TX

Parking Lot Striping Company Seguin TX
ADA Compliance Seguin TX

Pavement Markings Seguin TX

Or anything else for your residential or commercial asphalt or concrete surface in Seguin TX…
No matter the size of the job or the location, Keathley Line Striping can handle it! We've done parking lot line striping for apartments, condos, townhomes, office buildings, shopping plazas, parking garages, airports, racetracks, playgrounds, basketball courts, tennis courts, warehouses, restaurants and just about any other type of local business or attraction you can think of! We're here to serve the local businesses of Seguin who need the very best parking line painter in Seguin TX 😉
With the economic growth Seguin is having, there's lots of new construction all around town, so you definitely want to make sure that your parking lot is matching the fresh, cleanly striped parking lots through the city. Keathley Line Striping can help you with creating the best first impressions around for customers and visitors when they first drive on and park in your parking lot by ensuring that the lines are visible, straight and clearly marked.
Plus, we want to make sure that we do not interfere with your day-to-day operations as much as possible when we stripe your parking lot in Seguin, so when you hire Keathley Line Striping, you can rest assured that we'll do everything we can to ensure that your highest quality parking lot lines in Seguin will be done in a timely manner.
Parking Lot Striping Seguin is our passion, and we want to share our passion with you! We'd love to give you a free estimate, so fill out the form above or text us at (830) 499-3120. We'll come take a look at things, get you a quote and we'll get to work! We look forward to serving you and your customers by providing the highest quality parking lot lines in Seguin TX!
Hot Pour Crack Fill Seguin TX
Keathley Line Striping is here to work with you on ensuring you get the results you want. Making sure your asphalt is repaired properly when it gets damaged ensures that you protect and maximize your initial investment. We use only the best equipment and sealant to ensure you get a newly rejuvenated parking lot or drive way that will stay durable for years to come.
Keathley Line Striping offers hot pour crack fill in Seguin, TX. You can repair existing and unsightly cracks in any asphalt surface, including parking lots and driveways. With hot pour crack fill, you aren't very limited on the size of your repairs, like you are with cold-pour products. Instead, you can fill some of the largest and deepest cracks in your asphalt surfaces using hot-pour sealants that are built to last. The sealant is flexible after drying, expanding in hot weather and contracting in cold weather. This eliminates plenty of potential weather-related problems for you in the future.
With hot pour crack fill, you never have to worry about temperature changes as the sealant won't break the bond with surrounding asphalt. Using only the best equipment and most reliable products can make all the difference in the appearance and functionality of your lot. Reach out today for a free estimate and get your parking lot or driveway restored. Using hot pour crack fill will keep it in great shape regardless of weather conditions.
Keathley Line Striping uses only proven paving methods and the best practices to get rid of your unsightly potholes. We stand by our results as an industry leader and want you to have the smooth, pothole-free parking lot your customers deserve.
We will leave you with a clean surface when the project is complete. Repairing pavement can be dirty but we will never leave you with the mess to clean up. Your parking lot will be restored to its better days and you won't be cleaning up the remnants of our work.
Keathley Line Striping offers pothole repair services in Seguin, TX to restore both roadways and parking lots. Potholes can cause a real danger to vehicles and pedestrians alike. They can also cause you huge liability issues. Potholes are a real nuisance to vehicle traffic and can be a major tripping hazard for pedestrians.
You can't always prevent potholes from happening. They are created from moisture intrusion which is near impossible to prevent. What you can control is treating the problem as soon as it arises. There are plenty of remedies available.
There are several short- and long-term solutions available when it comes to pothole repair. A comprehensive repair of any and all potholes, means more convenient traveling for drivers and pedestrians alike. Patching is often a cost-effective way to limit liability and prevent further damage to your asphalt. A smooth roadway or parking lot doesn't just mean less liability. It also means happier customers.
Sign Installation Seguin TX
Keathley Line Striping installs nearly every kind of parking lot sign you could need. Whether you are looking for proper traffic control or a business that needs to become ADA-compliance, we can help you achieve your goals. Creating signage to the requirements of our clients is on of our specialties.
We will ensure that your parking lot not only looks appealing but is functional as well. Ensure that ADA-Compliant parking spots are clearly highlighted while also making sure the flow of traffic in your lot is safe and appropriate. We will work with you to design, deliver, and install your needed signs according to your timetable.
Keathley Line Striping offers sign installation in Seguin, TX. That sign installation can be anything from ensuring proper ADA-compliance in the way of handicap parking signs to pedestrian crosswalk signage and employee of the month parking spaces. It can also show where parking is off-limits or where yielding or stopping is required. All of this signage keeps your customers safer.
There are very few limits to what signage you can put up in your lot. Use stop and yield signs to control traffic flow. Demarcate where parking is prohibited, and use Do Not Enter and One Way signs to impact the safety of vehicles and pedestrians alike.
Proper signage in any given lot or roadway can be the different being an easy to navigate space or lot and an unsafe one. In addition, hard to navigate parking lots make for unhappy customers and unhappy customers aren't likely to return to your business. Keep your customers happy and safe with signage that shows proper flow of traffic.
***If You Don't See Your City Listed, We Can Still Help! Shoot Us A Text At (830) 499-3120***